Force In Every Step
The Codian, 4 years ago
0
2 min

read
1455
Dominating the battlefield and now, conquering the runaway with style! Who knew Christian Louboutin is a huge fan of Star Wars? Inspired by the movie's four leading ladies – Rey, Admiral Holdo, Captain Phasma and Rose Tico.
These stellar sole creations (pun intended) are limited to only one pair each! That's not all, they are also signed by Louboutin himself and the Star Wars actresses! We are told that the auction was held at the Charity Buzz, with a portion of the money going to Starlight's Children Foundation which supports critically ill children.
A legendary showpiece was revealed at the movie premiere, inspired by the movie; and Louboutin's extreme Ballerina Ultima 6-inch heel was featured with a holographic installation guarded by a set of Praetorian Guards on the red carpet during the premiere.
So here is our favourite from the top! (?: Star Wars)
Rey (Daisy Ridley) inspired heels featuring a leather wrap on the ankles, with translucent straps representing her powerful force and a blue crystal that matches her lightsaber.
Captain Phasma (Gwendoline Christie) shines through with criss-cross metallic straps, which imitates her armour's curves.
Vice Admiral Amilyn Holdo (Laura Dern) are burgundy coloured heels with drapes matching her cape.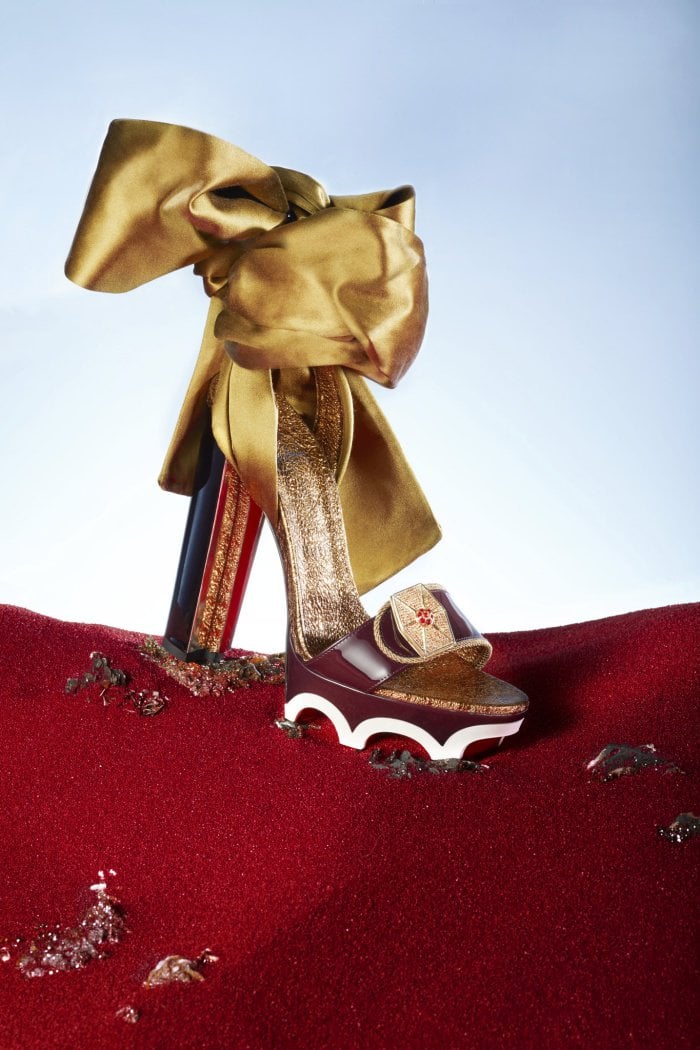 The Rose Tico (Kelly Marie Tan) version has a sandy ribbon ankle strap taken from her uniform as a maintenance worker in the Resistance.
The final, glorious piece is saved last: The Space Shoe!
On collaborating with Lucasfilm (source: Star Wars)
"Of course I saw the movies, but I also came to ILM in San Francisco and I worked with different people, including Doug Chiang. That was very reassuring, to see that in such a powerful and vast world like Star Wars and Disney, everything still starts with a drawing. Everything still starts with a very simple idea that you have in your head, and you're trying to develop it with other elements."
Fashion demands creative minds and to bring a fictional creation to life is a talent, not every man has. Christian Louboutin is known for his high-end stilettos with red lacquered sole. Fashion from inspired creations is intended to reach people by incorporating one element in another, creating a unique piece of art that connects both worlds.
Louboutin has collaborated with Disney's movies such as Maleficent and Cinderella, but this is definitely a force to be reckoned with.
Related posts
A New Kind of Normal with Code of Origin
With the Movement Control Order in place, Malaysians under quarantine are spending time online now more than ever. In an effort to remain connected to the outside world, people from all walks of life are glued to digital media while working from home, and staying…
Solving the Society's Problems is Now Businesses' Business
In an article published by Reuters back in April, it was reported that as businesses with a mission to do good become increasingly trendy, social entrepreneurs said they were finding it harder than ever to tackle one of their major problems—explaining what they do. In…