A Tale of The Kate Spade Empire
The Codian, 3 years ago
0
4 min

read
1115
We heard the shocking news of the passing of iconic fashion designer, Kate Spade or Kate Valentine at the age of 55. She left behind her legacy of "Kate Spade" and "Frances Valentine", designer brands for handbags, shoes, and accessories that are known throughout the global fashion industry.
Kate Spade is known as an entrepreneur who chose to pursue her dream by starting from the bottom. It all began in New York.
THE PROLOGUE
Kate never really liked fashion, although she loved ruffling through her mother's jewellery box. She actually wanted to become a TV producer.
In the year 1985, she graduated with a degree in Journalism and decided to find her career path in New York City. She worked for Mademoiselle magazine, where she eventually became a senior fashion editor and head of accessories.
Andy Spade, who was her boyfriend and later became her husband, suggested the idea of running a handbag company over dinner at a Mexican restaurant. Not long after that night, she resigned from her position at Mademoiselle in 1991 to design her own line of accessories. She chased her dream.
THE EMPIRE
KATE SPADE
(Source: unitedmags.com)
"Kate Spade" is a euphonious joint name comprising her name and her husband's last name, similar to Dolce & Gabbana. Using Andy's retirement savings, they embarked on their journey.
She began drafting what she envisioned her line would be – clean, simple and modern. She was obsessed with architectural and simple shapes. It later became a fundamental trait of Kate Spade design.
Kate Spade had a degree in journalism and with the little knowledge that she had in fashion design, she designed her first six prototypes using paper and Scotch tape. The materials that she used for her first handbags were burlap that she bought from a potato sack maker whom she found on Yellow Pages.
Her collections were sold at a trade show and this resulted in the department store chain Barneys ordering bags from her. She decided to change the location of the labels from being inside the bag to being on the outside and this became the Kate Spade brand.
The handbags were a huge hit in no time. Anna Wintour stated that "it was impossible to walk a block in the city without seeing a Kate Spade handbag". The bags were affordable and made one appear to be between an adult and a teenager, the perfect balance. Her designs were bold, cheerful and colourful, an exact representation of Spade's personality. She was awarded as the best accessories designer at the Accessories Council's ACE Awards in the year 1999.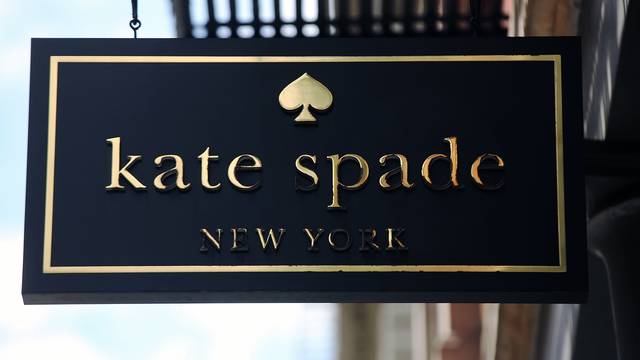 (Source: KSAT.com)
The brand extended their products in the form of a Kate Spade clothing line, jewelry, shoes, eyewear, fragrances and baby items, just to name a few. Spade published four books on fashion, etiquette, and style. Taken from New York Times, Ira Silverberg worked on the books with the couples; she stated that:
"The Spades understood how to reach an audience without alienating the consumer."
Spade changed the norm of handbags as an old European wealth symbol into an accessory to be enjoyed and flaunted by all.
FRANCIS VALENTINE
After her daughter Francis Beatrix was born, she decided to raise her and sold off her remaining shares in her own brainchild. Frances Valentine is a brand name that was derived from her daughter's name, Frances and her maternal side as she was born on Valentine's Day.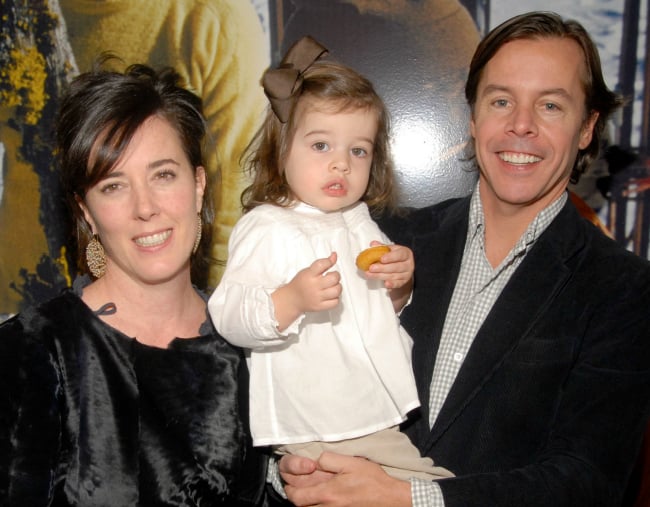 Kate, Andy and Frances Beatrix Spade (Image: Getty)
The new venture included the same investors and partners from the previous company but focused on bags and shoes. The aesthetics of Frances Valentine is oddly familiar and pleasing to those fond of Kate Spade, and people knew it right away! Cosmopolitan describes the Frances Valentine style as "colourful", "quirky" and "boxy". It quickly gained fame in the same way that Kate Spade stole people's hearts.
Frances Valentine (Source: pewterandpuddles.com)
The EPILOGUE
After her tragic passing, she reportedly left four seasons of completed design, work and concepts for Frances Valentine. The design team, which originally worked for her since the days of Kate Spade, together with her husband Andy Spade, decided to keep her 'alive' in all Frances Valentine collections.
People have shared personal stories via social media on how Kate Spade and Frances Valentine brought colour to their life and how they will remember her through all her wonderful creations.
She was visionary, spirited, and bright. She simply designed bags that she knew would change the fashion industry. Quoted by Joe Zee, a creative director of Elle and fashion director of W in New York Times,
"She did what she felt was right, regardless of what the industry would think."
Katherine Noel Frances Valentine Brosnahan was passionate in bringing colours into the fashion industry with her quirkiness and colourful concepts. As an entrepreneur, she started small and most of all she believed in authenticity, which carried her brand directly into the hearts of the people. Be bold. Be innovative. Thank you and rest in peace, Kate.
Related posts
A New Kind of Normal with Code of Origin
With the Movement Control Order in place, Malaysians under quarantine are spending time online now more than ever. In an effort to remain connected to the outside world, people from all walks of life are glued to digital media while working from home, and staying…
Solving the Society's Problems is Now Businesses' Business
In an article published by Reuters back in April, it was reported that as businesses with a mission to do good become increasingly trendy, social entrepreneurs said they were finding it harder than ever to tackle one of their major problems—explaining what they do. In…