A Place To Call Micro Home
The Codian, 3 years ago
0
2 min

read
85415
The overnight pop-up of two micro-housing units in a 250 square feet area, equipped with a couple of swings, man-made ponds with live plants and miniature fountains in the middle of Medan Pasar, Kuala Lumpur intrigued many.
It was the concept of an urban village, which was part of the 9th World Urban Forum (WUF9). It was a collaborative effort between Urbanice Malaysia, ThinkCity and Kuala Lumpur City Hall DBKL to make communal living a reality.
Rage Youtube cover of the 'Urban Village' pop-up. (Source: R.age)
The after office hours view of Kuala Lumpur is mostly that of vehicles rushing out of the city. It is of people returning to their homes in the suburbs, far from the city's commotion after a hard day's work. A study conducted by the urban regeneration organisation ThinkCity shows that a substantial amount of 54,000 people enter the city to work, and by nighttime, KL is left with less than 5,000 people.
The reason behind this is the price of houses in Kuala Lumpur come with a six-figure price tag and only one percent of the population is able to live in the city with an average income of RM5,000. Even kids genuinely feel that "there is nothing interesting to do in KL," and that the city is not a desirable place to live in and might not be a preferred place to work in the future – which is a grave concern for city hall.
We believe that this kind of housing is similar to Japan's micro home, known as 'Kyosho Jutaku', where they occupy space in an efficient and minimalist way to save space. It first became a thing in the year 1990, for the exact same reasons, youngsters left the urban city due to the exponentially high price of residences.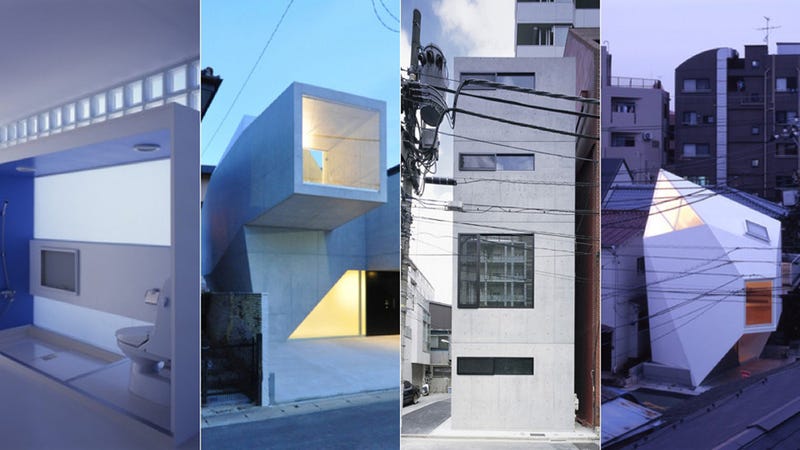 Examples of 'Kyosho Jutaku' houses in Japan (Source: gizmodo.com)
The concept revolves around the idea of optimizing small places for living. They build a relationship between nature and its occupants, which complements each other in harmony and balance. This shows appreciation towards the environment and brings positive changes in the way of living.
Creative elements speak to us at every corner of this house. From the mainframe, its materials, interior design to the selection of colours and theme. They play an exceptionally crucial part to provide safety, comfort, and aesthetics that compliment the space. The combination of all these elements and the results after its completion is stunning, similar to the ones in Japan.
WUF9 is not just an initiative to provide a means of urban living for the people. It is to foster a balanced relationship with individuals and nature by appreciating space and resources while living life to the fullest with the integration of various creative elements.
Related posts
A New Kind of Normal with Code of Origin
With the Movement Control Order in place, Malaysians under quarantine are spending time online now more than ever. In an effort to remain connected to the outside world, people from all walks of life are glued to digital media while working from home, and staying…
Solving the Society's Problems is Now Businesses' Business
In an article published by Reuters back in April, it was reported that as businesses with a mission to do good become increasingly trendy, social entrepreneurs said they were finding it harder than ever to tackle one of their major problems—explaining what they do. In…